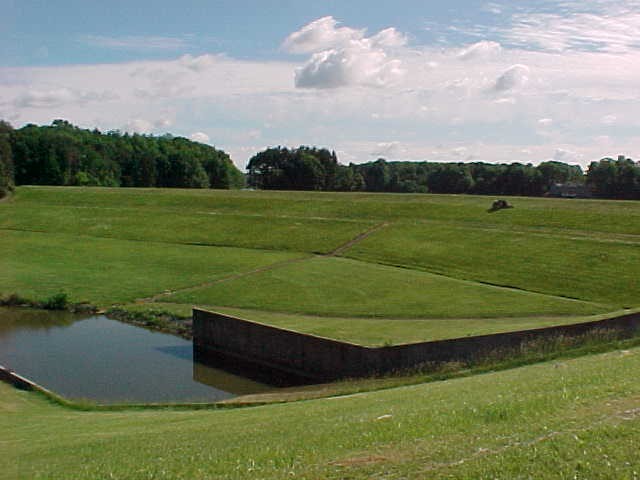 Embankment Dam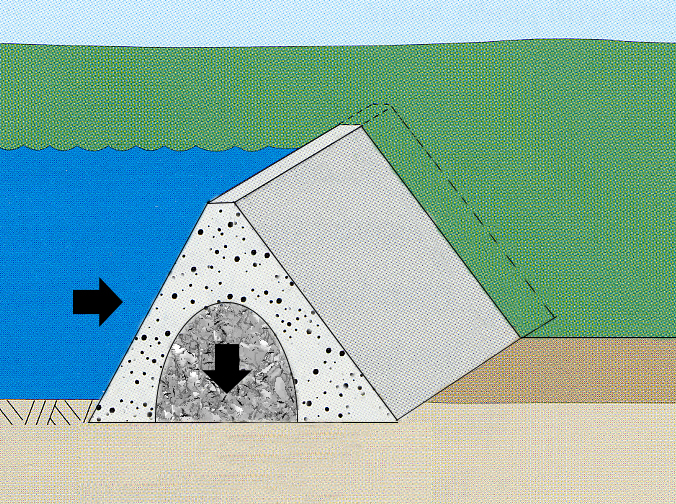 Forces Acting on an Embankment Dam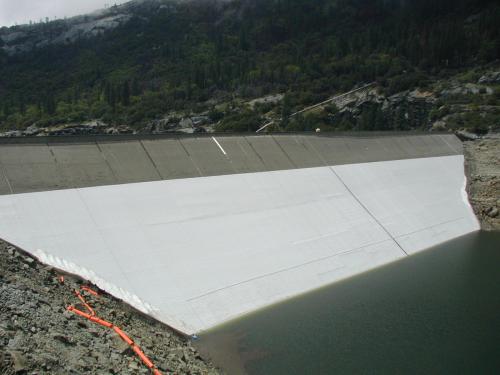 Gravity Dam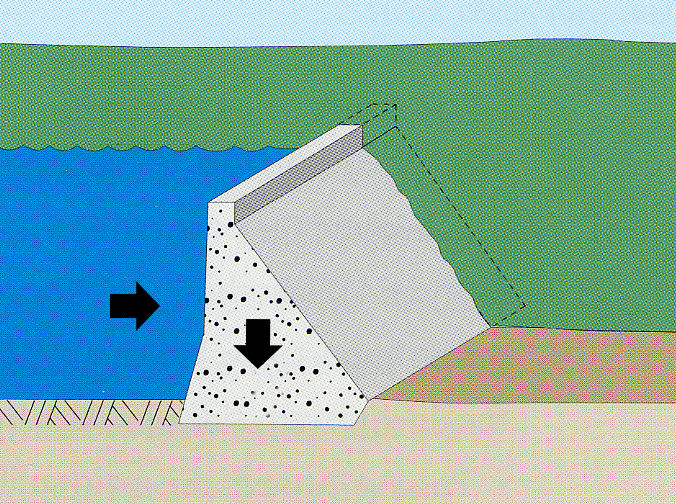 Forces Acting on a Concrete Gravity Dam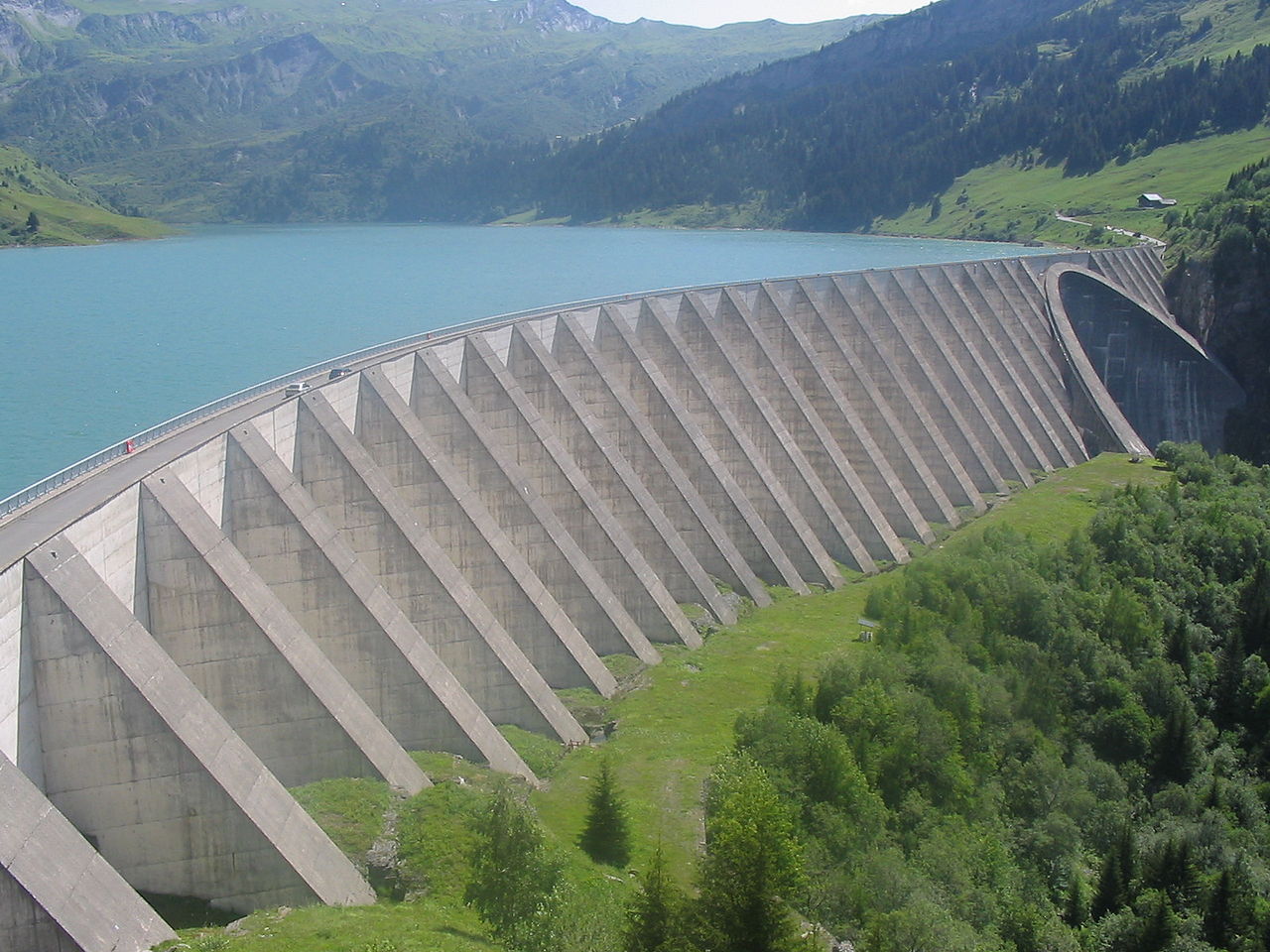 Buttress Dam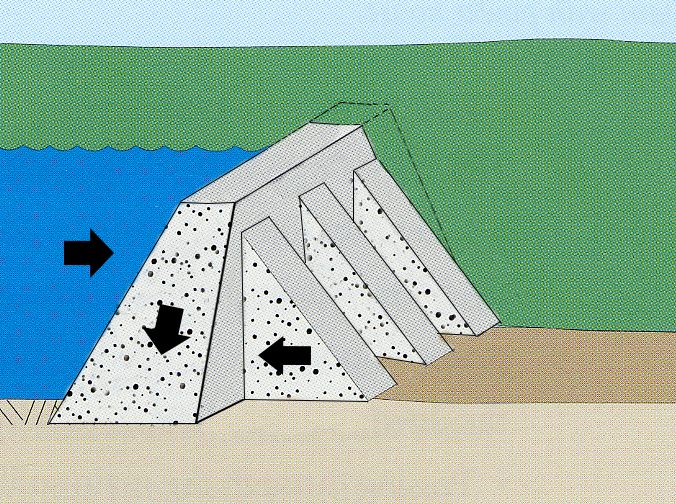 Forces Acting on a Buttress Dam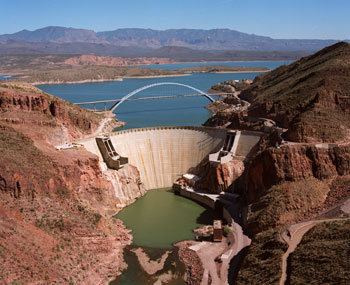 Arch Dam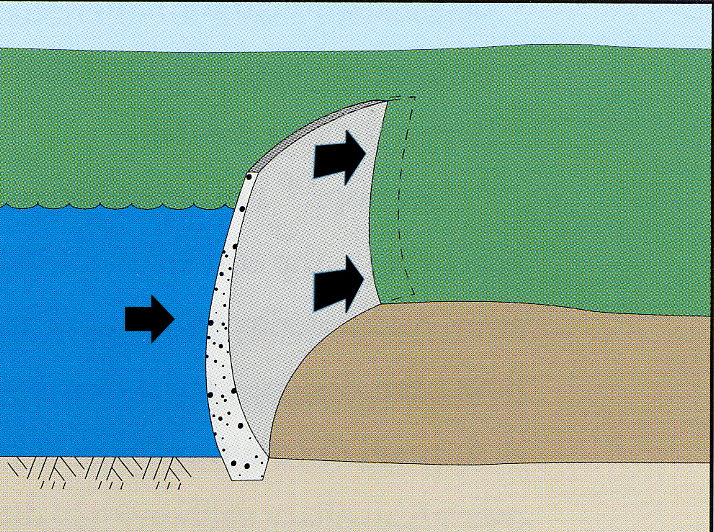 Forces Acting on an Arch Dam
Basics
The purpose of a dam is to impound (store) water, wastewater or liquid borne materials for any of several reasons, e.g. flood control, human water supply, irrigation, livestock water supply, energy generation, containment of mine tailings, recreation or pollution control. Many dams fulfill a combination of the above functions.
Manmade dams may be classified according to the type of construction material used, the methods used in construction, the slope or cross-section of the dam, the way the dam resists the forces of the water pressure behind it, the means used for controlling seepage and, occasionally, according to the purpose of the dam.
The materials used for construction of dams include earth, rock, tailings from mining or milling, concrete, masonry, steel, timber, miscellaneous materials (such as plastic or rubber) and any combination of these materials.
---
Types
Embankment Dams: Embankment dams are the most common type of dam in use today. Materials used for embankment dams include natural soil or rock, or waste materials obtained from mining or milling operations. An embankment dam is termed an "earthfill" or "rockfill" dam depending on whether it is comprised of compacted earth or mostly compacted or dumped rock.The ability of an embankment dam to resist the reservoir water pressure is primarily a result of the mass weight, type and strength of the materials from which the dam is made.
Concrete Dams: Concrete dams may be categorized according to the designs used to resist the stress due to reservoir water pressure. Three common types of concrete dams are: gravity, buttress and arch.
Gravity: Concrete gravity dams are the most common form of concrete dam. The mass weight of concrete and friction resist the reservoir water pressure. Gravity dams are constructed of vertical blocks of concrete with flexible seals in the joints between the blocks.
Buttress: A buttress dam is a specific type of gravity dam in which the large mass of concrete is reduced, and the forces are diverted to the dam foundation through vertical or sloping buttresses.
Arch: Concrete arch dams are typically rather thin in cross-section. The reservoir water forces acting on an arch dam are carried laterally into the abutments.The shape of the arch may resemble a segment of a circle or an ellipse, and the arch may be curved in the vertical plane as well. Such dams are usually constructed of a series of thin vertical blocks that are keyed together; barriers to stop water from flowing are provided between blocks. Variations of arch dams include multi-arch dams in which more than one curved section is used, and arch-gravity dams which combine some features of the two types of dams.