Animal Burrows

Damage Caused by Embankment Overtopping

Inadequate Spillway Capacity

Weir Boards Blocking Spillway/Limiting Freeboard

Undermining of Spillway Toe

Progressive Piping Problem

Progressive Piping Problem

Seepage from an Embankment

Leakage Around Outlet Pipe

Internal Erosion Along Pipes

Unstable Slopes

Spillway Scour

Poor Maintenance

Poor Design/Poor Maintenance

Sinkhole

Uprooted Trees on Dams

Spalled Concrete
Dam failures are most likely to happen for one of five reasons:
1. Overtopping caused by water spilling over the top of a dam. Overtopping of a dam is often a precursor of dam failure. National statistics show that overtopping due to inadequate spillway design, debris blockage of spillways, or settlement of the dam crest account for approximately 34% of all U.S. dam failures.
Video Example
YouTube
Download
2. Foundation Defects and Slope Instability Foundation defects, including settlement and slope instability, cause about 30% of all dam failures.
Video Example
YouTube
Download
3. Cracking caused by movements like the natural settling of a dam.
4. Inadequate maintenance and upkeep.
Video Example
YouTube
Download
5. Piping is when seepage through a dam is not properly filtered and soil particles continue to progress and form sink holes in the dam. [See an animation of a piping failure.] Another 20% of U.S. dam failures have been caused by piping (internal erosion caused by seepage). Seepage often occurs around hydraulic structures, such as pipes and spillways; through animal burrows; around roots of woody vegetation; and through cracks in dams, dam appurtenances, and dam foundations.
Video Example
YouTube
Download
Dam Failure Incidents 2010-2015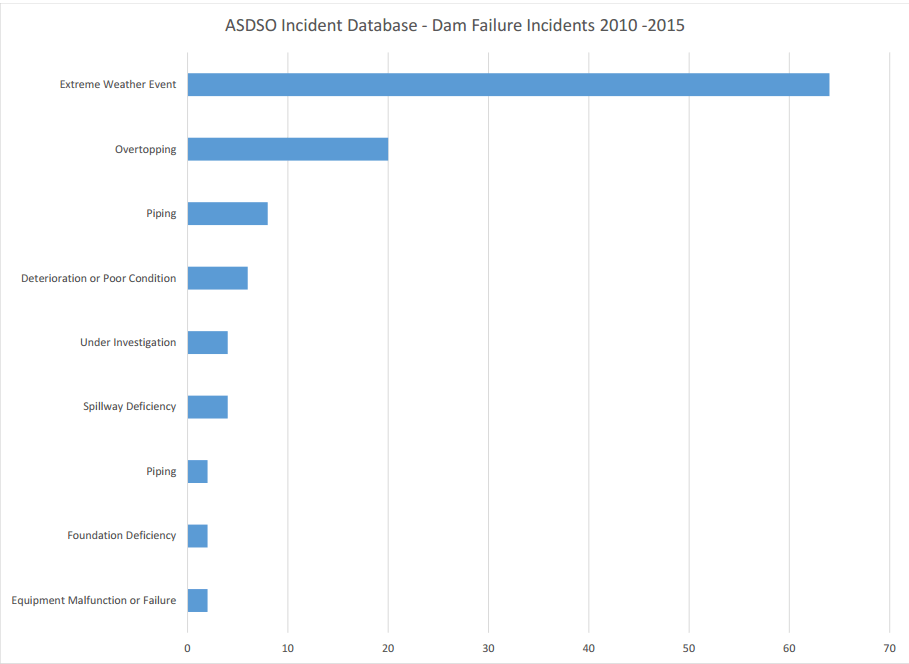 Make sure to visit the 'Dam Failures' section under 'Awareness Center' to learn more! Click Here
For more specific information, including case studies and lessons learned, visit DamFailures.org