The top issues facing the dam community are the:
Driving every other issue and all activities within the dam safety community is the risk of dam failure. Although the majority of dams in the U.S. have responsible owners and are properly maintained, still many dams fail every year. From January 2005 to June 2013, the States reported 173 dam failures and 587 'incidents' - episodes that, without intervention, would likely have resulted in a failure. Dam and downstream repair costs resulting from failures in 23 states reporting in one recent year totaled $54.3 million.
Historically, dams that failed had some deficiency, which caused the failure. Currently, the number of deficient high-hazard potential dams is more than 2,170 . There are deficient dams in almost every state. (A majority of states and federal agencies define a deficient dam as one that has been found to have hydraulic or structural deficiencies that leave it more susceptible to failure.)
The risk of failure only increases as dams across the nation age. Currently, the average age of dams in the United States is 56 years. By 2025, 7 out of 10 dams will be over 50 years old. Without the needed upgrades and rehabilitation, these dams can not be expected to withstand current flood and earthquake predictions.
---
Dams are innately hazardous structures. Failure or mis-operation can result in the release of the reservoir contents--this includes water, mine wastes or agricultural refuse--causing negative impacts upstream or downstream or at locations remote from the dam. Negative impacts of primary concern are loss of human life, economic loss including property damage, lifeline disruption and environmental damage.
Some dams are considered to have a greater hazard potential than others. As of 2015, there are approximately 15,500 "high-hazard potential" dams in the U.S. "High-hazard potential" is a term used by a majority of state dam safety programs and federal agencies as part of a three-pronged classification system used to determine how hazardous a dam's failure might be to the downstream area.
While the definition varies from place to place, it generally means if failure of a high-hazard dam occurs, there probably will be loss of life. It must be emphasized that this determination does not mean that these dams are in need of repair--these dams could be in excellent condition or they could be in poor condition. "High-hazard" just reflects the dam's potential for doing damage downstream should it fail.
High-hazard potential dams exist in every state and affect the lives of thousands downstream. The current issue and debate is over the increasing number of these high-hazard structures--not because more high-hazard dams are being built, but that more development is occurring downstream. Dam safety regulators generally have no control over local zoning issues or developers' property rights. So this issue continues to worry regulators as the "hazard creep" trend persists.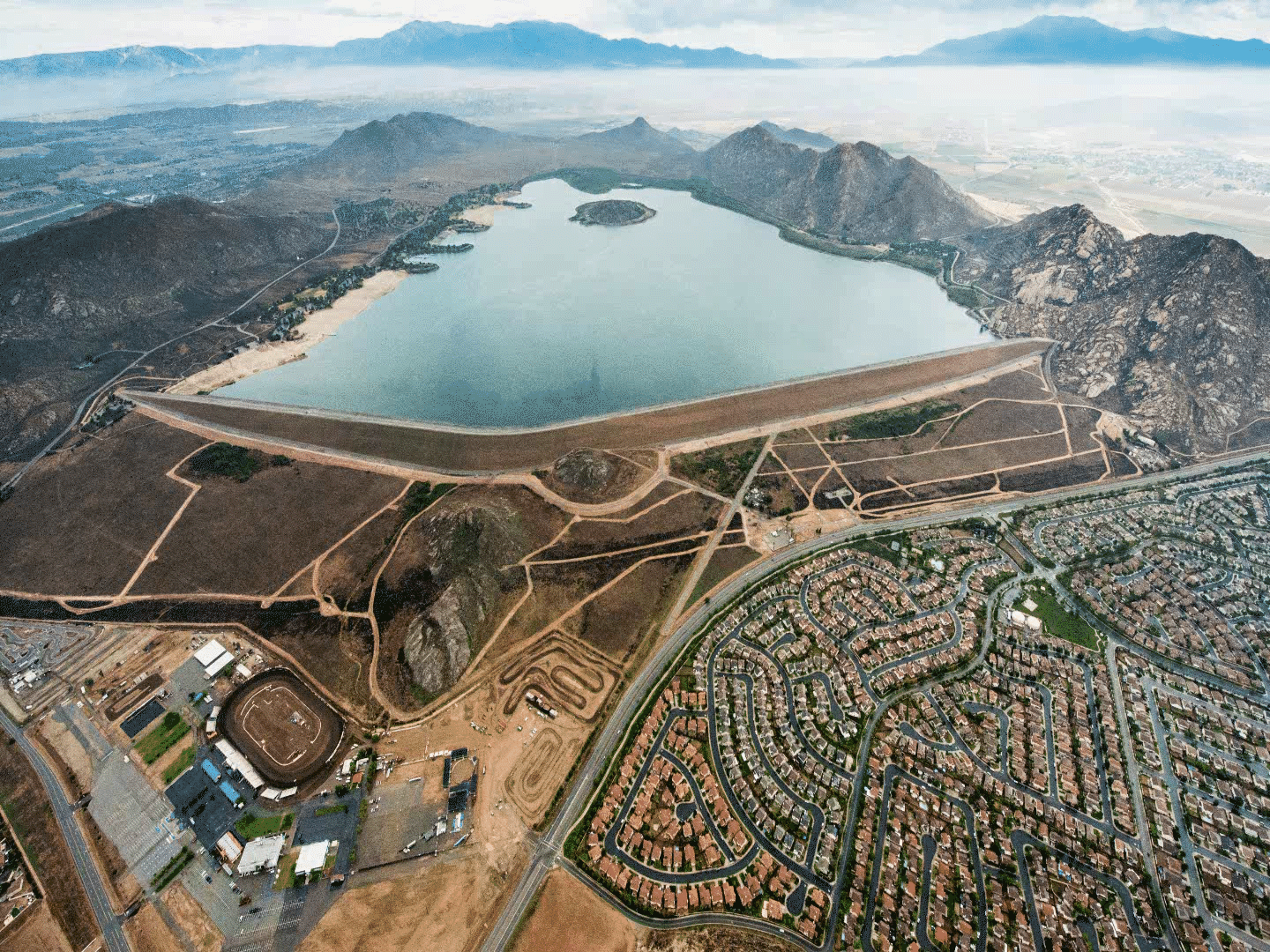 ---
Dams must be maintained to keep them safe. Occasional upgrade or rehabilitation is necessary due to deterioration, changing technical standards and improved techniques, better understanding of the area's precipitation conditions and increases in downstream populations and changing land use. When a dam's hazard classification is changed to reflect an increased hazard potential, the dam may need to be upgraded to meet an increased need for safety. The age of a dam is not necessarily a direct indicator of its condition. Age is indirectly an indicator in that old dams were not built to the standards of today. Some older dams are considered in poor condition for this reason alone; others may have been inadequately maintained as well.
In 2017, the American Society of Civil Engineers updated its Infrastructure Report Card. In this report, dam safety was given a 'D' , the same grade it received in 2013. This is mostly due to the number of degicient high-hazard dams and the lack of funding the sector is currently recieving. You can read the full report here.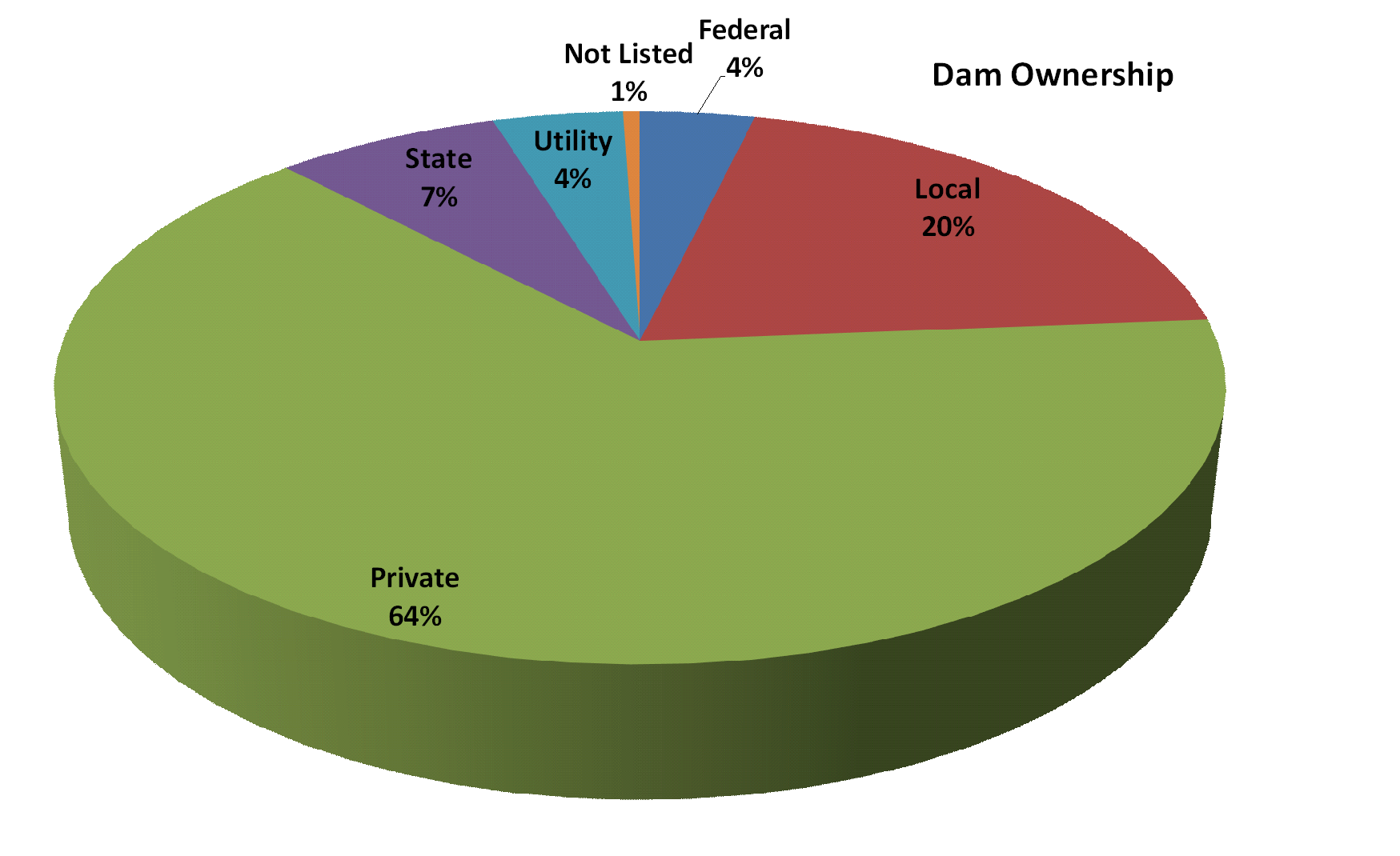 Ownership makes dams a unique part of the national infrastructure. While most infrastructure facilities (roads, bridges, sewer systems, etc) are owned by public entities, the majority of dams in the US are privately owned. A dam's owner is solely responsible for the safety and liability of the dam and for financing its upkeep, upgrade and repair.
---
Many different types of people and entities own and operate dams:
About 64 percent are privately owned.
Local governments own about 20 percent.
State agencies own about 7 percent.
The federal government, public utilities and undetermined interests own smaller numbers of dams.
---
Lack of funding for dam upgrades is a serious national problem, especially within the private sector. Operation, maintenance, and rehabilitation of dams can range in cost from the low thousands to millions, and responsibility for these expenses lies with owners, many of whom cannot afford these costs. Although some states offer loan programs, funding assistance, through government or private sources, is minimal at best.
According to a 2016 ASDSO study, the combined total cost to rehabilitate the nation's non-federal and federal dams exceeds $64 billion. To rehabilitate the nations more critical, high-hazard potential dams, would cost nearly $22 billion. Without financing for maintenance and repair, the cost of rehabilitation will only climb higher.
---
States are responsible for oversight of the vast majority of dams listed in the National Inventory of Dams. Although most states have legislative authority to carry out a comprehensive dam safety program, many are lacking in specific areas. Some states are unable, by specific language in their law, to regulate certain types of dams, allowing these structures to fall between the regulatory cracks. Other states have limited ability to enforce the law. In some states, officials have no recourse if dam owners do not carry out safety repairs ordered by the state.
Many states are simply under-resourced for carrying out the letter of the law. State budgets for dam safety range from $0 (Alabama) to $13 million (California). But the average annual state dam safety budget is about $1 million. The average number of regulated dams per state is about 160.
The average number of dam inspectors per state is about eight; this means that each dam inspector is responsible for overseeing the safety of about 200 existing dams, plus the additional responsibilities of overseeing new construction.
There is, therefore, a serious need, in almost every state, to pump additional state resources into these programs.
---
Emergency preparedness is improving, with the percentage of state-regulated high-hazard potential dams with an EAP increasing from 35% to 79% between 1999 and 2016. The goal is for all high-hazard potential dams to have an EAP so that dam owners and local authorities are prepared for a sudden dam failure and the ensuing downstream consequences.
---
Intersecting almost all the issues above is the issue of public education about dams. The ordinary citizen is unaware that the beautiful lakes on which he or she boats, skis or fishes are only there because of manmade dams. Developers build in dambreak flood inundation areas knowing nothing about the potential that upstream dam has to cause devastation should it fail. In fact, some developers and zoning officials are completely unaware of dams within their community. Even if citizens understand and are aware of dams, they still can be overly confident in the infallibility of these manmade structures. Living in dambreak flood-prone areas is a risk.
Many dam owners do not realize their responsibility and liability toward the downstream public and environment. Adequate understanding of proper dam maintenance and upgrade techniques is a typical problem among many owners across the United States.
Some groups put forth the message that dams are bad for the environment and advocate their removal. This may mislead the public into thinking that taking care of our dams is a worthless cause. In some cases, dam removal is the best solution, but in all instances the consequences should be considered in coming to this decision.