Questions
What is the hazard potential classification system for dams? What does it mean for a dam to be high hazard?
Is there a list of top high-hazard dams?
Is there a state by state list of deficient dams?
Are emergency action plans required?
What is the difference between a dam owner and a dam regulator?
What is the National Inventory of Dams (NID)?
What is the Infrastructure Report Card?
---
Common practice among federal and state dam safety offices is to classify a dam according to the potential impact a dam failure (breach) or mis-operation (unscheduled release) would have on upstream and/or downstream areas or at locations remote from the dam. The existing classification systems are numerous and vary within and between both the federal and state sectors. Although differences in classification systems exist, they share a common thread: each system attempts to classify dams according to the potential impacts from a dam failure or misoperation, should it occur. Most agencies use a variation on the following terminology:
High Hazard
Dams assigned the high hazard potential classification are those where failure or mis-operation will probably cause loss of human life.
Significant Hazard
Dams assigned the significant hazard potential classification are those dams where failure or mis-operation results in no probable loss of human life but can cause economic loss, environmental damage, disruption of lifeline facilities, or can impact other concerns. Significant hazard potential classification dams are often located in predominantly rural or agricultural areas but could be located in areas with population and significant infrastructure.
Low Hazard
Dams assigned the low hazard potential classification are those where failure or misoperation results in no probable loss of human life and low economic and/or environmental losses. Losses are principally limited to the owner's property.
---
Due to security concerns, there isn't a list of the top high-hazard potential dams made available to the public. However, information about the number of high-hazard potential dams and regulations for each state can be found using the state map. If you are concerned about the safety of living near a dam, please visit livingneardams.org
---
Due to security concerns, there is not a list available of deficient dams. You can see the condition assessment data in aggregate for each state using the state map page or by visiting the National Inventory of Dams.
---
For state-regulated dams, it depends on the laws and regulations within each state. Some states require emergency action plans for high-hazard potential dams and some do not. As of 2016, 79 percent of state-regulated High-Hazard Potential dams have an EAP. ASDSO's goal is 100 percent. Please visit the state pages for more information about individual state programs.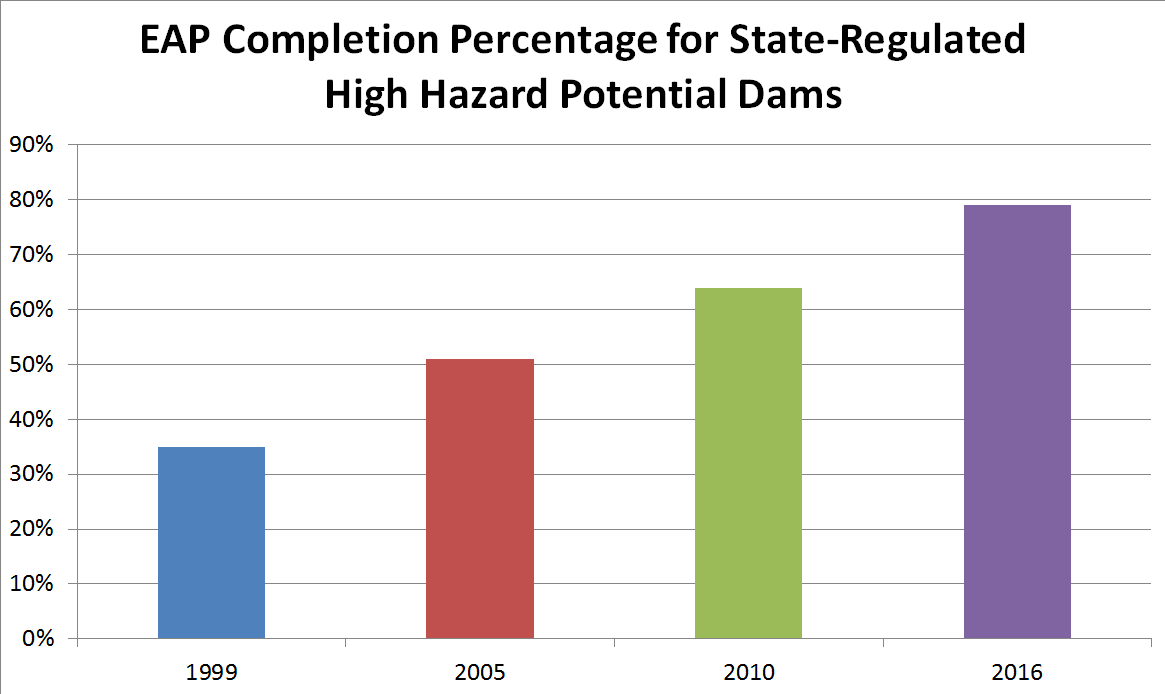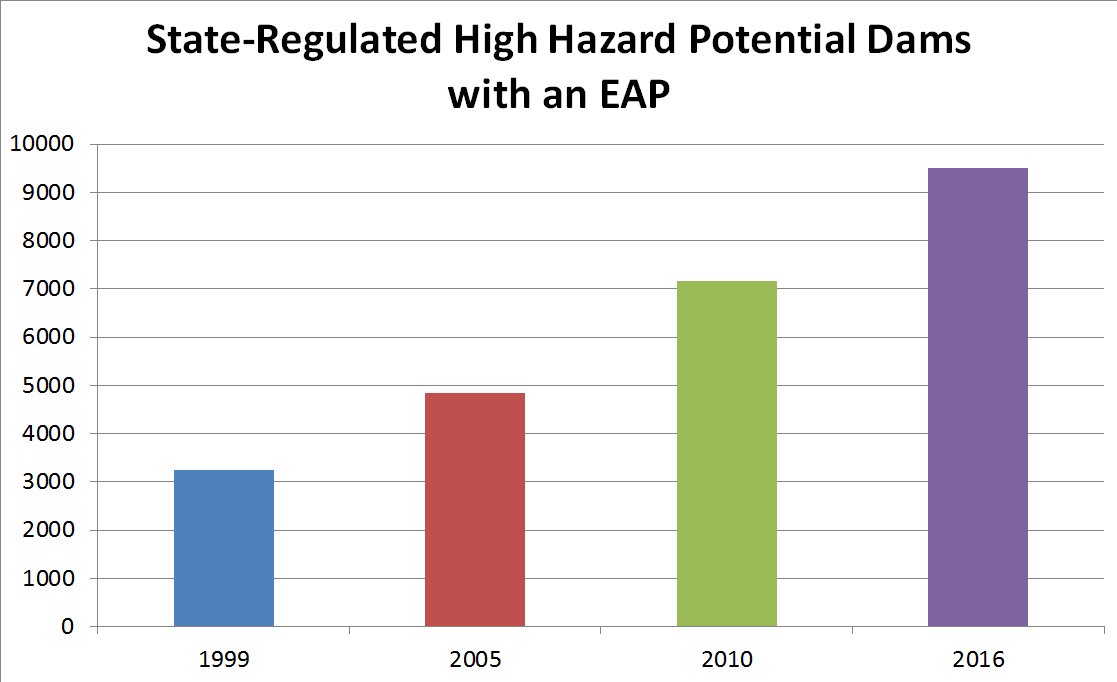 ---
A dam owner is liable for the dam and is responsible for its upkeep, upgrade and repair. A dam regulator is responsible for enforcing policies, inspecting the safety of a dam, review of plans for new construction or rehabilitation and has a broader overall outlook on the construction and upkeep of dams. Owners can be private citizens or companies, quasi-governmental bodies, state or local governments or federal agencies. Regulators work for the state or federal government. Most dams - about 70% in the US - are regulated by state agencies. All states have regulatory programs in place except one, Alabama. Federal agencies regulated about 14% of dams in the U.S. The remaining percentage are unregulated due to state or federal exemptions.
---
The U.S. Army Corps of Engineers maintains the National Inventory of Dams (NID) to help compile national data on dams in the United States. The NID lists over 90,000 dams. State and Federal regulatory agenices submit data to the NID.
The NID gives national and state by state information on the current state of dams. To be a part of the NID, the dam must either be: of high- or significant-hazard potential classification, equal or exceed 25 feet in height and exceed 15 acre-feet in storage or equal or exceed 50 acre-feet storage and exceed 6 feet in height.
To access the site visit: nid.usace.army.mil/
---
The American Society of Civil Engineers (ASCE) released a Report Card for America's Infrastructure every 4 years. The report card grades each facet of America's Infrastructure in order to understand the funding required to address each issue, as well as to understand the overall condition and maintenance each facet already receives. As part of the report, ASCE considers the condition of dams and the state of regulatory and owner oversight.
ASCE considers America's dams to be in poor to fair condition and that dam rehabilitation and safety should be of significant concern.
THe 2017 report card gave Infrastructure as a whole received a D+ while the conditions of dams received a D. Dams also received a D in 2013, the last time ASCE released a report.
To read the report on dams visit www.infrastructurereportcard.org/cat-item/dams/.