ASDSO's Dam Safety Scholarship Program was established in 1992, recognizing that one of the keys to achieving the association's goals is the development of well-trained technical persons. Through the program, ASDSO annually awards a scholarship to at least one undergraduate senior who has demonstrated an interest in pursuing a career related to dam design, construction, and operation and is studying in a related field.
---
Apply Now for the 2023-2024 Memorial Undergraduate Scholarship
ASDSO has opened the application window for the 2022-2023 Memorial Undergraduate Scholarship.
At least one scholarship will be awarded during this cycle, with up to $20,000 in scholarship funds available. A travel stipend to the ASDSO Annual Conference may also be awarded in addition to the scholarship funds.
Successful recipients must be U.S. citizens or lawful permanent residents and enrolled full-time at the senior level (during the 2023/2024 school year) in an accredited civil engineering program or in a related field as determined by ASDSO. Students must also demonstrate an interest in pursuing a career in hydraulics, hydrology or geotechnical disciplines, or in another discipline related to the design, construction and operation of dams. Undergraduate students planning to graduate in May/December 2024 will be eligible for the 2023 scholarship.
Applicants must have a cumulative grade point average of 2.5 for the first three years of college and be recommended by their academic advisor. Selection will generally be based on academic performance, financial need, work experience/activities, and the essay. Applications will be reviewed by members of the ASDSO Board of Directors and members of the Committee on Education Outreach Scholarship Subcommittee. The ASDSO Board of Directors will have the final approval of the recipient.
Applications must either be digitally submitted or postmarked no later than March 31, 2023. Announcement of successful candidates will be made in July 2023.
View or Download the Full Application
---
2022-2023 Memorial Undergraduate Scholarship
Roland Herbkersman
University of South Carolina
Roland Herbkersman is a senior at the University of South Carolina studying civil and environmental engineering. Roland has a passion for the outdoors and the environment, and through the civil engineering program at UofSC, he found a passion for water resource engineering and the sciences that go into it.
He recently worked as an intern with the Department of Health and Environmental Control (DHEC) for the state of South Carolina. Roland notes that the internship allowed him to learn firsthand how much goes into dam design, construction, and regulation. He had numerous opportunities to go in the field, including being present for a 10-year risk assessment of a large dam by the US Army Corps of Engineers.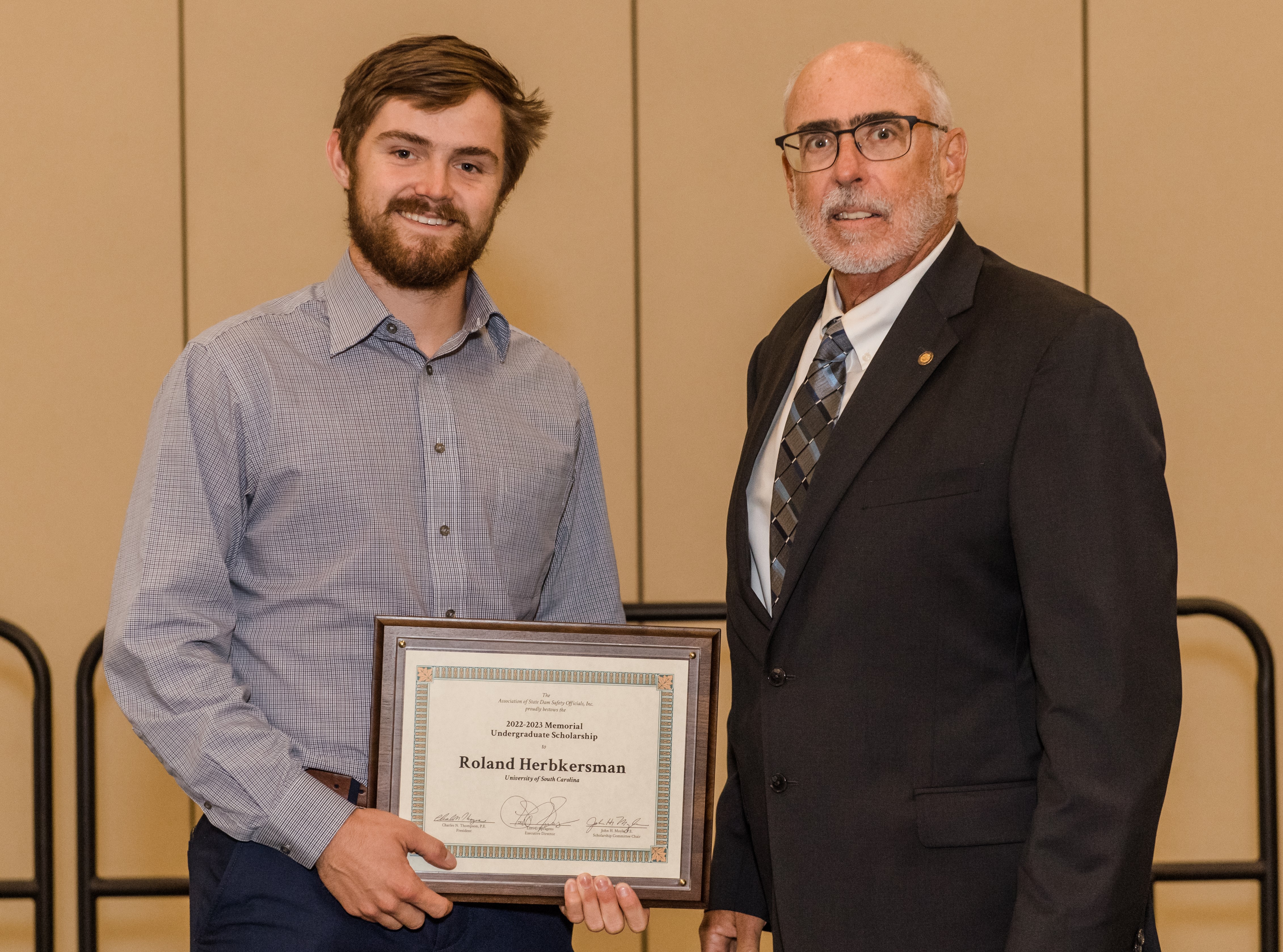 Photo: Roland Herbkersman (Left) and ASDSO Scholarship Committee Chair John Moyle (Right)