ON THIS PAGE:
Looking for a previous year's recipient? View the full history of ASDSO awards.
Photos on the pages were taken at the Dam Safety 2022 Awards Luncheon in Baltimore, Maryland.
---
Chosen by the ASDSO Board of Directors, this award honors an individual or entity contributing to dam safety on a national level. This year's recipient will be announced at the luncheon.
Mark Ogden, P.E. (ASDSO)
Mark Ogden has played a vital role in both ASDSO and dam safety nationally over his career. Mark has more than 25 years of experience in state dam regulation, and he previously served on the ASDSO Board of Directors as president from 2007-2008. He is retired from the Ohio Department of Natural Resources, Division of Water, where he served as the administrator of the Water Management Section with responsibility for the Dam Safety, Floodplain Management, Coastal Erosion Permitting, and Canal Operations Programs. Mark joined ASDSO staff in 2010 as a technical specialist and the association's liaison to state dam safety programs. Mark has been instrumental in ASDSO legislative efforts, both on the local level and nationally.
Photo: 2021-2022 President Charles Thompson (Left) and Mark Ogden (Right)
---
This award recognizes a unique remedial design, for a project of any size, that advances the state-of-the-art in the field of dam safety and exemplifies the professional engineering and construction standards that dam safety requires.
Santa Anita Dam Spillway Modification Project
Los Angeles County Flood Control District (Owners)
Stantec Consulting Services Inc. (Designers)
Kiewit Corporation (Contractors)
The Los Angeles County Flood Control District (District) owns a complex flood protection and water conservation system, including 14 major dams and reservoirs, 175 debris basins, 27 spreading grounds, 491 miles of open channels, and 3,400 miles of underground drains. Los Angeles County Public Works (Public Works), on behalf of the District, manages, operates, and maintains the District's infrastructure, including Santa Anita Dam.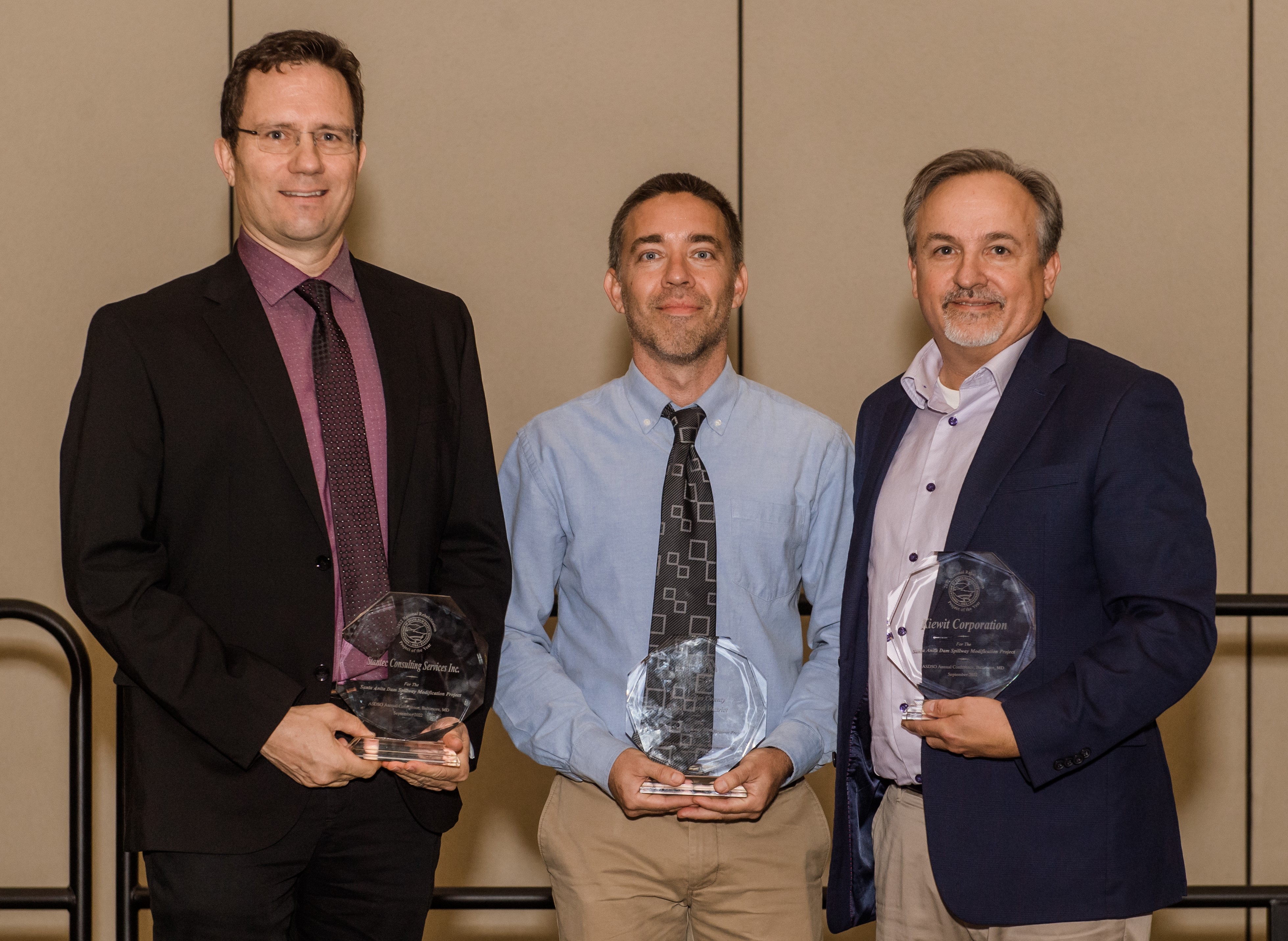 Santa Anita Dam is located about 4 miles north of the city of Arcadia, California, in the San Gabriel Mountains. Santa Anita Dam is a concrete, constant angle arch dam which provides flood and debris control and water conservation for the benefit of downstream communities. The dam was constructed between October 1924 and March 1927. It has a height of 225 feet, a length at crest of 612 feet, and the concrete arch has a thickness of 9 feet at crest and 61.5 feet at base. The dam has three flood control valves, one free-draining outlet, one main ogee spillway constructed during the Spillway Modification Project, and one auxiliary spillway remaining from the original dam construction.
The dam's three original spillways had a combined hydraulic capacity of 4,490 cubic feet per second (cfs). Hydrology and hydraulic studies conducted by Public Works and the California Department of Water Resources Division of Safety of Dams (DSOD) in the late 1990s and early 2000s revealed that the original spillways were not adequate to pass the Probable Maximum Flood (PMF) inflows of 26,100 cfs. The severe hydraulic deficiencies of the original spillways left Santa Anita Dam vulnerable to overtopping during significant storm events.
To comply with the DSOD's requirement to safely pass the PMF without overtopping the dam, Public Works initiated the Santa Anita Dam Spillway Modification Project (Project). Major components of the Project included a new spillway to pass the PMF of 26,100 cfs, re-armoring of the downstream slopes in the impact area of the new spillway, replacing three flood control valves and three backup valves, a new cableway hoist, construction of a new helipad for emergency access, and other improvements to the dam's electrical, water, mechanical, and control systems.
Because Santa Anita Dam is located within a steep and highly eroded canyon and a winding, single-lane road provides the only access point, the project needed to be carefully designed. All construction activities were scheduled to maximize the usage of the road to achieve efficient progress. In the second year of construction, intense rainfall during heavy storms caused a major rockslide, undermining portions of the access road. A weight limit of 3,000 pounds was imposed on the damaged road, adding further to the complexity of the construction by restricting regular material, equipment, and vehicular access to the dam. Public Works, in collaboration with the project implementation team, developed a variety of innovative solutions to address the access challenges. These solutions included a rapidly deployed rail system to move equipment and material across the slide efficiently, disassembly and reassembly of equipment and materials to meet weight limits, custom fall protection, and platform systems to facilitate hand demolition of the spillway notch, and a new pumpable concrete mix capable of pumping over a quarter-mile around the slide to the spillway location. The project team overcame all obstacles and completed the new spillway's construction within the scheduled timeframe.
Top Photo: Santa Anita Dam
Bottom Photo: (Left to Right) Vik Iso-Ahola (Stantec), Scott Gregowske (Los Angeles County Flood Control District) and Del Shannon (Kiewit)
---
The Regional Awards of Merit are given to individuals, companies, organizations, municipalities, or other entities working in the dam safety field that have made outstanding contributions to dam safety within each ASDSO Region.
Northeast Regional Award: Maryland Department of Natural Resources
Maryland Department of Natural Resources (MDDNR) owns and operates 25 dams in state parks and wildlife management areas across Maryland, providing various fishing, boating, hunting, bathing, and historic educational opportunities. Of these dams, six are high hazard potential dams, and two are significant hazard potential. MDDNR undertook numerous critical dam safety improvements and projects in recent years. Efforts include:
Significant spillway rehabilitation and reconstruction of a low-level outlet works at Herrington Manor Dam (MD00012) were completed in 2015 for approximately $650,000.

Replacement of a damaged low-level gate and actuators at the bottom of the tallest MDDNR dam, Rocky Gap State Park Dam (MD00071), and a structural evaluation of a concrete spillway chute slab were completed in 2018 for approximately $700,000.
Successful implementation of the Emergency Action Plan and an "all-hands" response from multiple parks during a seepage incident at Greenbrier State Park Dam (MD0042) in 2018. This was followed by rapid procurement of emergency engineering services to perform a comprehensive dam safety evaluation of the dam and the development of remedial plans.
Development of a $3 million "State Lakes Protection and Restoration Fund" that will protect and enhance the lakes formed by the MDDNR dams.
Engaged an engineering firm in 2020 to perform comprehensive dam safety evaluations, PFMA and SLRA for six dams, including four with high hazard potential, one with a significant hazard potential, and one unsafe low hazard potential dam. This first tranche of comprehensive evaluations will assist MDDNR in developing a long-term capital improvement program and risk management plan for their dam portfolio. This effort has identified $50 to $70 million of potential projects.
Multiple EAP tabletop exercises were organized as partnerships with MDDNR, Maryland Dam Safety, and local emergency managers, ensuring all MDDNR high and significant hazard dams exercised their EAPs within the past five years.
Planning efforts are underway to remove the unsafe 1910 masonry Frank Bentz Community Pond Dam (MD00253), with coordination amongst local government, Maryland Historic Trust, Maryland Dam Safety, MDDNR resource programs, and multiple other stakeholders. The dam removal will remove an obstruction on Hunting Creek, a prized cold-water trout fishery.
Photo: (Left to Right) Philip Hager (Assistant Secretary, Land Resources at Maryland Department of Natural Resources), John Roche (Northeast Regional Representative), and Perry Otwell (Director, Engineering and Construction at Maryland Department of Natural Resources)
Southeast Regional Award: North Carolina Dam Safety Program
Over the last few years, the North Carolina Dam Safety Program (Program) has initiated several innovative projects to provide for the safety of dams, reduction of risks, and benefits for the state. These projects include:
Hydrologic and hydraulic studies for overtopping on 530 large and very large dams in three river-basins that have seen multiple Probable Maximum Precipitation (PMP) events since 2016.
Development of Semi-Quantitative Risk Analysis (SQRA) & Risk Informed Inspection Report Form using online available apps and common software programs. This process emphasizes consistent training and inspections for sixty-plus inspection staff throughout the state, is the foundation of our SQRA, and will feed our Facility Access Management Application (FAMA) map.
Development of a FAMA mapping WebApp that utilizes a Point Feature Layer with every dam in the North Carolina inventory (6000+). Each point has attribute data that incorporates the most recent inspection and other specific details. Based on predicted storm paths and rainfall amount, the Program can filter at risk dams by various attributes.
Implementation of Dam Watch, a real-time web-based tool to assist in dam infrastructure monitoring, including work beyond the minimum design-based information feeds. The program has worked with North Carolina Emergency Management to facilitate the installation of 81 water level sensors and has uploaded 530 overtopping studies, further enhancing the monitoring. They aim to install a total of 132 sensors on publicly owned high hazard potential dams.
The program has recently obtained funding to implement a new PMP study for North Carolina. The new study would consider the impacts of climate change, provide up-to-date information for the design and safety of dams, and assist with the planning and design of all infrastructure throughout the state.
Midwest Regional Award: Cleveland-Cliffs Inc.
Cleveland-Cliffs is a 175-year-old steel producing company and North America's largest iron ore pellet producer. With a team of more than 26,000, Cleveland-Cliffs is self-sufficient as they mine and produce the raw materials for their steelmaking operations.
The company owns and operates five tailings storage facilities, all of which have a high hazard potential dam. These tailings storage facilities range from approximately one to nine square miles, with perimeter dam lengths from four to eleven miles long and heights of over 100 feet. It has taken steps on its own to make all its dams safer following the failures of tailings storage facilities in Canada and Brazil. It has recognized the importance of designing tailings dams to account for static liquefaction, hiring experts to develop detailed stability analyses, and asking third-party experts to review the designs. The company has hired consultants to develop state-of-the-art tailings dam breach analyses, including tailings flow, and has updated emergency action plans for its dams. Cleveland-Cliffs has acted on the findings of its consultants, buttressing thousands of feet of dam embankment that did not meet factors of safety against liquefaction and changing operations to reduce risk until dam safety remedies could be implemented. Perhaps most important, Cleveland-Cliffs has proactively developed good working relationships with state dam safety staff in Michigan and Minnesota. They keep the staff apprised of the status of operations, design, and long-range plans and seek feedback early and often. Company representatives are ASDSO members and are active members of the ASDSO Tailings Dam Committee. Cleveland-Cliffs provides a shining example of how dam owner and regulator relations should be conducted.
Photos: (Left to Right) Ryan Stack (Midwest Regional Representative), Michigan State Representative Luke Trumble, Christopher Winter (Cleveland-Cliffs), Dean Korri (Cleveland-Cliffs), James Pawloski, Mia Kannik (Midwest Regional Representative)
West Regional Award: Texas State Soil and Water Conservation Board
The Texas State Soil and Water Conservation Board (TSSWCB) is the state agency that administers Texas soil and water conservation law and coordinates conservation and nonpoint source water pollution abatement projects throughout the state. The TSSWCB was created in 1939 by the Texas legislature to organize the state into 216 Soil Water Conservation Districts (SWCDs) and to serve as a centralized agency for communicating with the Texas legislature and other state and federal entities.
TSSWCB staff is committed to assisting the SWCDs, maintaining adequate flood control, and improving dam safety in Texas. For example, TSSWCB has developed two grant programs to deliver funds from the Texas legislature to the SWCDs. The O&M Grant Program is a reimbursable grant program for local SWCDs and other qualified co-sponsors of flood control dams. The Structural Repair Grant Program is also a reimbursable grant program for local SWCDs but focuses on more serious deficiencies at dams that are judged to have a higher risk of failure under certain loading conditions.
Additionally, TSSWCB has administered federal dam rehabilitation projects. Since 2014, NRCS has provided $84 million to TSSWCB in federal funding to rehabilitate 125 dams, and the state has obligated approximately $35 million in matching funds for construction to date. In FY2021, TSSWCB signed agreements with NRCS for $8.97 million in federal funding for rehabilitation, design, and construction of 7 flood control dams. TSSWCB is contracting for engineering services and signing grant agreements with sponsors for construction on these dams.
Photo: (Left to Right) Sharon Tapia (2021-2022 ASDSO Secretary, California State Representative), Everett Taylor (West Regional Representative), Terry Medley (West Regional Representative), Steven Bednarz (Texas State Soil and Water Conservation Board), Tim Gokie (West Regional Representative), Charles Thompson (2021-2022 ASDSO President)
---
This medal was established by the Affiliate Member Advisory Committee, now known as the ASDSO Advisory Committee (AdCom), to recognize Danny McCook's lifetime achievements in geotechnical engineering and his contributions to ASDSO and the AdCom. Recipients have made outstanding contributions to research or practice in geotechnical engineering for dams. AdCom reviews nominations and selects recipients when appropriate.
John W. France, P.E. (JWF Consulting LLC)
John W. France is a registered professional engineer and Diplomate, Geotechnical Engineering and Water Resources Engineer, currently practicing as an independent consultant. John France has more than 45 years of experience in engineering consulting and design. Most of John's technical work for the past 35 years has focused on dams and water retention structures. This experience includes dam safety inspections and analyses, risk analyses, detailed geotechnical and geological field and laboratory investigations, hazard classification, seepage and static stability analyses and evaluations, seismic stability/seismic deformation analyses, conceptual and final designs of new structures, rehabilitation of existing structures, and consultation during construction.
He has served on Consultant Review Boards for the U.S. Bureau of Reclamation for several dam safety rehabilitation projects and on a three-member Independent Panel that provided annual reviews of Reclamation's dam safety programs. He has served on two Advisory Boards for B.C. Hydro for dam safety studies and modifications of five of its dams. For the United States Army Corps of Engineers, he has served on Senior Technical Advisory Panels for Wolf Creek Dam, Center Hill Dam, Isabella Dam, Success Dam, and Martis Creek Dam; provided Quality Control and Consistency Reviews for risk analyses for Herbert Hoover Dikes, Howard Hanson Dam, East Branch Dam, Lewisville Dam, Barker Dam, Brookville Dam, and Mill Creek Storage Dam; served on a risk analysis expert elicitation teams for Herbert Hoover Dikes, Success Dam, and Lewisville Dam; and served on an independent external review panel for modification of Isabella Dam.
He has served not only as the geotechnical lead but also as the overall team lead on two prominent dam failure investigations: Oroville spillway failure (2017) and the failure of Edenville and Sanford Dams (2020); both of which have offered valuable lessons to be learned by the industry.
Additionally, John has been an active member of the Association of State Dam Safety Officials (ASDSO) and the U.S. Society on Dams (USSD). He is a past vice president and ex-officio member of the Board of Directors for USSD and a past chairman of the Affiliate Member Advisory Committee for ASDSO. He has published papers and delivered presentations at almost every ASDSO and USSD national conference for the past 20 years and has been the principal instructor for many ASDSO courses. John also served six years as a private sector member on the National Dam Safety Review Board. In 2010 and again in 2018, he was the recipient of the prestigious President's Award from ASDSO for his contributions to dam safety.
Photo: John W. France (Left) and 2020-2022 Advisory Committee Chair Craig Findlay (Right)
---
The Association of State Dam Safety Officials (ASDSO) Young Professional Award recognizes professionals under 40 years of age working in the dam safety field that have made outstanding contributions to the Association, their respective organization, and/or the dam safety industry in general.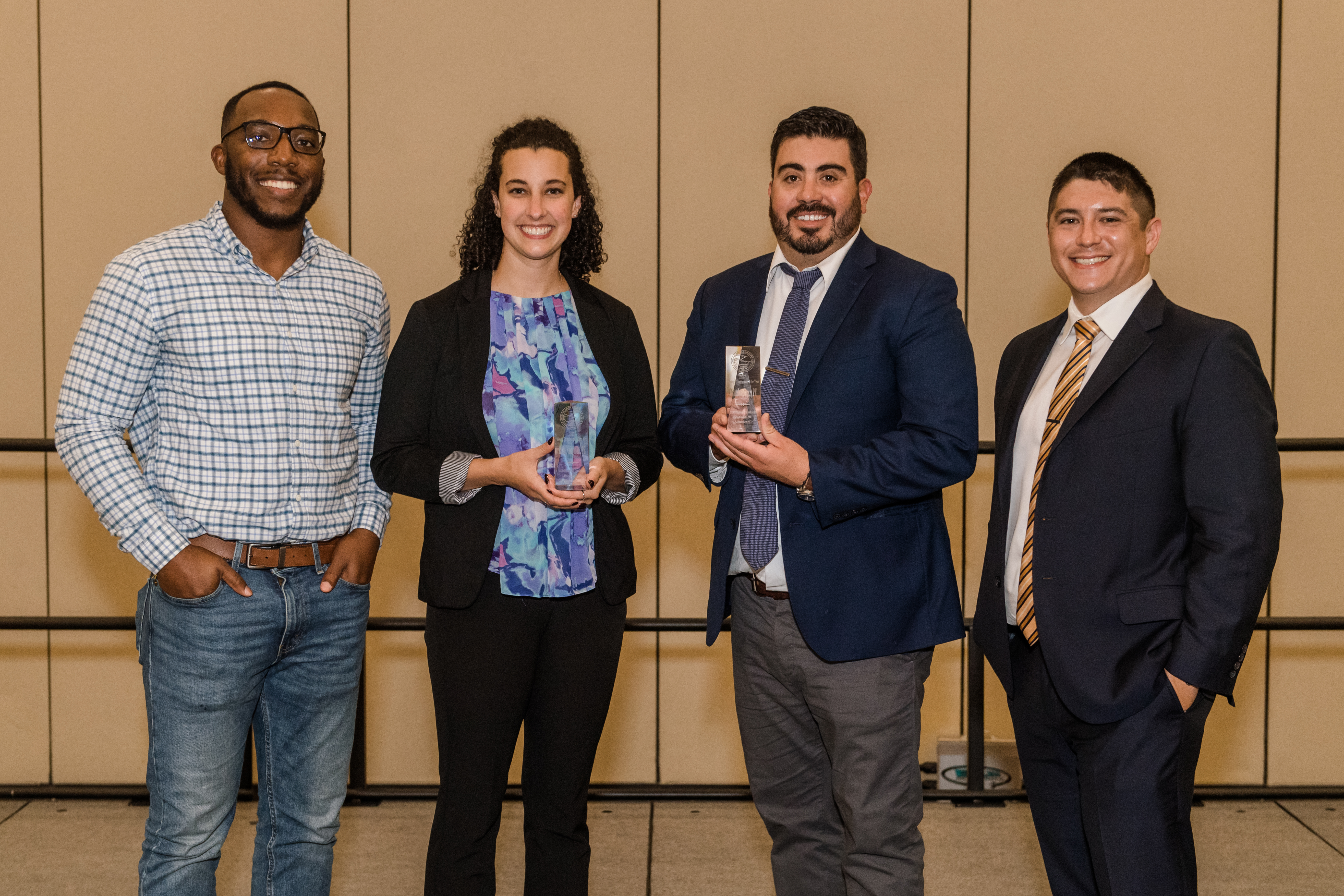 Brandon Cruz, P.E. (California Division of Safety of Dams, Department of Water Resources)
Brandon has a Master of Science in civil engineering, is a professional civil engineer licensed in California, and has been employed with the California Division of Safety of Dams (DSOD) since 2009. He began his career in DSOD's Design Engineering Branch, where he spent seven years as a design engineer before transferring to DSOD's Field Engineering Branch in 2016. The next year, Brandon was promoted to his current position as a senior area engineer. In that role, he oversees maintenance and construction activities for dams in some of the most populous counties in Southern California.
In 2013, Brandon was selected as DSOD's contract manager for a contract with the Office of Water Programs (OWP) at California State University to identify DSOD's inundation mapping tool. With Brandon's guidance and assistance, the Decision Support System for Water Infrastructural Security Web (DSS-WISE Web; formerly DSS-WISE Lite) was identified as the preferred model for use by DSOD. In subsequent years, he became DSOD's technical expert on the model, running simulations for different dams around the state and providing technical support to other state dam safety programs. When the main spillway at Oroville Dam was damaged during heavy rains in February 2017, Brandon took the lead in modeling the inundation area should the emergency spillway fail. Working with OWP, Brandon and his team developed an inundation map in about 48 hours during the unfolding crisis. Since then, he has worked with FEMA, the National Center for Computational Hydroscience and Engineering (NCCHE) at The University of Mississippi (the developer of DSS-WISE Web), and other partners to suggest and develop concepts for potential improvements.
Another notable achievement is his work overseeing the construction of a challenging seismic rehabilitation project on a high hazard potential dam. Brandon faced many challenges on this project that had to be overcome, including excavation of the dam's downstream embankment slope and foundation with a near-full reservoir, dewatering of a saturated embankment and foundation, inclement weather, site access challenges for equipment and materials due to the dam's high elevation mountainous location, and a lack of borrow materials.

Kate Naughton, P.E. (Hazen and Sawyer)
Kate joined Hazen and Sawyer as a principal engineer in December 2020 after spending nearly eight years in Gannett Fleming's Dams and Hydraulics Section. Her areas of technical expertise include hydrologic and hydraulic analysis; preparing operation & maintenance manuals and emergency action plans (EAPs); facilitating EAP drills, seminars, tabletop exercises, and functional exercises; analyzing and estimating the safe yield of complex reservoir and water supply systems; and conducting dam assessments. Her recent accomplishments include:
Pasco County Utilities Reservoir Compliance – Prepared and provided a 4-hour dam safety training event for the utility's compliance, operations, and maintenance staff, and advocated for the update to the owner's EAP following the recent surge in downstream development.
City of Hagerstown Dam Services – Prepared inundation maps and three EAPs for two water supply reservoirs and the levee protecting the water treatment plant.
Savage River Dam Emergency Action Plan – In addition to overseeing updates to the dam's EAP, she served as a representative of the Upper Potomac River Commission for the Maryland/West Virginia Dam Safety Collaborative Technical Assistance.
City of Monroe Equalization Basin – Prepared construction documents and an EAP for the dam at the city's wastewater treatment plant, successfully permitting the project with the North Carolina Dam Safety Program.
Gwinnett County Dam Inspections – Provided field inspections and Quality Control reviews for the quarterly inspection of 25 dams for the county.
Kate served as a co-chair of the ASDSO Young Professional Interest Group for several years before stepping down to allow others the same opportunity. During her time as a co-chair, Kate encouraged young professional involvement in conferences and webinars by helping leadership recruit presenters and facilitating regular opportunities for young members to serve as moderators. Through Gannett Fleming, she helped to develop a website for FEMA to convey lessons learned from these events to a broad dam safety audience. The result was DamFailures.org, a resource currently hosted and maintained by ASDSO. She is currently active in the ASDSO Technical Training Committee and was a part of the Strategic Planning Taskforce for the 2022-2027 Strategic Plan.
Photo: (Left to Right) John Atkins (Young Professional Interest Group Co-Chair), Kate Naughton, Brandon Cruz, and Cory Miyamoto (Young Professional Interest Group Co-Chair)
---
This award was established by ASDSO in 2017 to recognize and celebrate Dr. Bruce Tschantz's lifetime achievements in dam safety, his contributions to ASDSO, and his efforts to improve public safety around dams. The award will be given to a person who takes on the role of "local champion" and works to improve public safety around dams. Often, no action would be taken without their efforts.
Jerry Sweeten, Ph.D. (Ecosystems Connections Institute)
Dr. Jerry Sweeten is originally from Kokomo, Indiana. His life-long passion for the outdoors and aquatic ecosystems was nurtured along the shores of Bruce Lake in Fulton County, where his grandfather had a small fishing cabin. He earned a bachelor's degree in biology and environmental studies from Manchester College, a master's in natural resources from Ball State University, and a Ph.D. from Purdue University. His experience includes working for the State Department of Education, teaching science in Indiana schools, and serving as the director of the Asherwood Environmental Science Center. From 2004-2018, Dr. Sweeten was the professor of biology and director of environmental studies at Manchester College and was awarded Emeritus status at retirement. After retirement in 2018, Dr. Sweeten founded Ecosystems Connections Institute, LLC.
Jerry is at the forefront of low head dam removal efforts in Indiana and is making exemplary contributions to the safety at dams. Some of the project highlights he has undertaken are as follows:
Removals of two low head dams in the city of Corydon, Indiana in the fall of 2019. These dams were dangerous for humans and impacted critical habitat for state endangered species.
Removed two low head dams from Eel River in Logansport, Indiana in November 2021. At this particular location, the Eel river meets the Wabash river about a mile downstream of the smaller dam. The removal was important because the two rivers have not been able to share their fish for over 180 years.
Removed a low head dam from Sugar Creek in Crawfordsville, Indiana in 2021. This stream is a very popular recreation destination such as canoeing and kayaking and supports a very robust fishery.
Removed three low head dams in North Manchester and another in Liberty in 2012.
Removed dam located in Mexico, Indiana on the Eel River in 2016.
Photo: Jerry Sweeten (Left) and Public Safety at Dams Committee Chair Manuela Johnson (Right)
---
This award is named in honor of ASDSO's first president, Joe Ellam of Pennsylvania, and is given annually by the current president.
Mark Ogden, P.E. (ASDSO)
---
Learn more about the Student Paper Competition in the student and faculty resource section
---
Learn more about the Memorial Undergraduate Scholarship in the student and faculty resource section